Gulf Coast Adjusting handles the following losses:
- Fire Damage
- Hurricane Damage
- Wind Damage
- Flood Damage
- Contents
- Business Interruption
- Water Damage
- Hail
- Tornado Damage
- Farm Related & Crop Damage
- Broken Pipes / Pipe Leaks
- Smoke Damage
- Earthquake
- Water Heater Leaks
- Loss by Collapse
- Sink Holes
- Storm Damage
- Theft
- Vandalism
- Vehicle Hitting a Building
And any other covered loss
About us
Gulf Coast Adjusting provides Public Insurance Adjusting services throughout the States of Louisiana, Mississippi, and New Jersey. Our typical clients include Homeowners, Business Owners, Commercial Property Owners, Condominium Owners, Condominium Associations, and Apartment Complex Owners. Gulf Coast Adjusting also provides professional estimating and expert services for legal and engineering firms.
The Staff at Gulf Coast Adjusting Includes:
Rich Lyon
Rich is the founding member of Gulf Coast Adjusting, and enjoys over 15 years of working in the construction and insurance industries.
Rich has been continually licensed by the State of Louisiana # 508253 and State of Mississippi # 10180259 and the State of New Jersey #1513282 as a Public Adjuster. Rich is proficient with insurance industry leading estimating software Xactimate and Xactcontents. Rich is an admitted expert in the field of Claims Damage Estimating in Federal Court in the Eastern District of Louisiana.
Rich achieved Journeyman Carpenter status through apprenticeship, and worked as a Journeyman Carpenter for The Michigan Regional Council of Carpenters, a subchapter of the United Brotherhood of Carpenters and Joiners of America for a total of 7 years.
In his time with the MRCC, Rich enjoyed his work on residential homes, apartment complexes, commercial shopping malls and various commercial buildings, hotels, public schools, Detroit Metro Airport (McNamara Terminal - Northwest World Gateway), Beaumont Hospital (Troy, MI), Life Science Institute (University of Michigan, Ann Arbor, MI), Biomedical Engineering Center (University of Michigan, Ann Arbor, MI), Oakland County Court & Jail Complex (Oakland County, MI).
During that time and independently, Rich became licensed as a residential contractor, MI license #2101178816.
Rich was given the opportunity to apply his construction knowledge to the insurance industry, and soon found his passion in Public Insurance Adjusting. Hurricane Katrina and close ties to New Orleans brought Rich to the Gulf Coast in 2005, and Rich has made his home in the New Orleans area to present date.
Gulf Coast Adjusting also features a number of dedicated individuals working in harmony to bring the best possible experience to each of our customers. We welcome any type of covered loss and are committed to providing excellent service.
For more information about public insurance adjusters, please visit:
http://en.m.wikipedia.org/wiki/Public_adjuster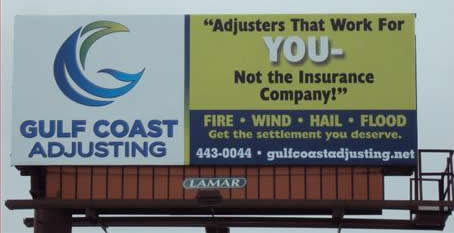 ---